Is your company in an emerging or disruptive market? Do you face unique legislative or regulatory challenges because your marketplace innovations have disturbed the status quo?
OneClickPolitics is proud to support the work of some of the world's most successful and disruptive companies including Weedmaps and DraftKings. The unique and often uncharted world of advocacy for disruptive companies is where we thrive. Many of our most innovative product features and legislative victories have come as the result our work with startups and disruptive companies.
---
Startup-Specific Features and Services
Have a neat idea for a new feature? Want us to expand upon or tweak an existing feature to suit your specific needs? Want us to build branded advocacy sites for each of your state-specific campaigns? OneClickPolitics is in the business of constant and consistent innovation. If you want it; we'll build it for you.
Join government relations professionals from other startups and disruptive companies for highly specialized monthly webinars and strategy sessions with some of the nation's most renowned advocacy experts leading live discussions.
Our team of professional advocacy consultants will help you model and enrich your existing advocate data, write copy for action alerts, draft welcome series emails, acquire new advocates, build compelling web content, and mobilize existing stakeholders to take action on your legislative and regulatory issues.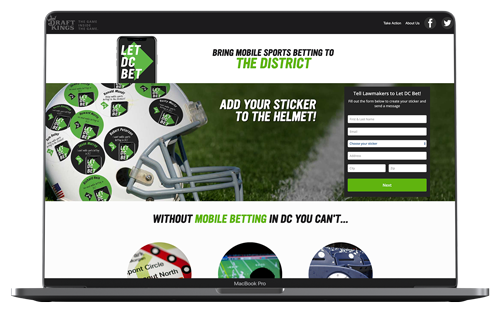 View Live Site
"OneClickPolitics is by far the most powerful and innovative advocacy platform I've ever worked with. Their people took the time to walk us through the entire platform and made sure we knew how to use it to best activate our advocates at Weedmaps."
---
Tim Sullivan, Public Affairs Manager, Weedmaps